Guided Point-to-Point (PTP) Link Setup
This configuration example is for the LigoPTP RapidFire 4/5 only.
Follow these steps when connecting to the LigoPTP Web Management Interface for the first time:
Step 1. Launch the web browser.
Step 2. Enter the device's default IP address 192.168.2.66 in the browser's URL field.
Step 3. The LigoPTP unit should load the user agreement page by default (out of the box or if reset to default settings).
Step 4. Once the user agreement is signed, select the LigoPTP's country of operation. Regulatory domain settings may differ depending on the selected country. Users will not be allowed to select radio channels and radio frequency output power outside of the values permitted by the regulatory domain of the selected country.
Antenna gain should be set for products with external antenna only.
Step 5. Once the country is selected, click Guided setup to start the LigoPTP unit's installation: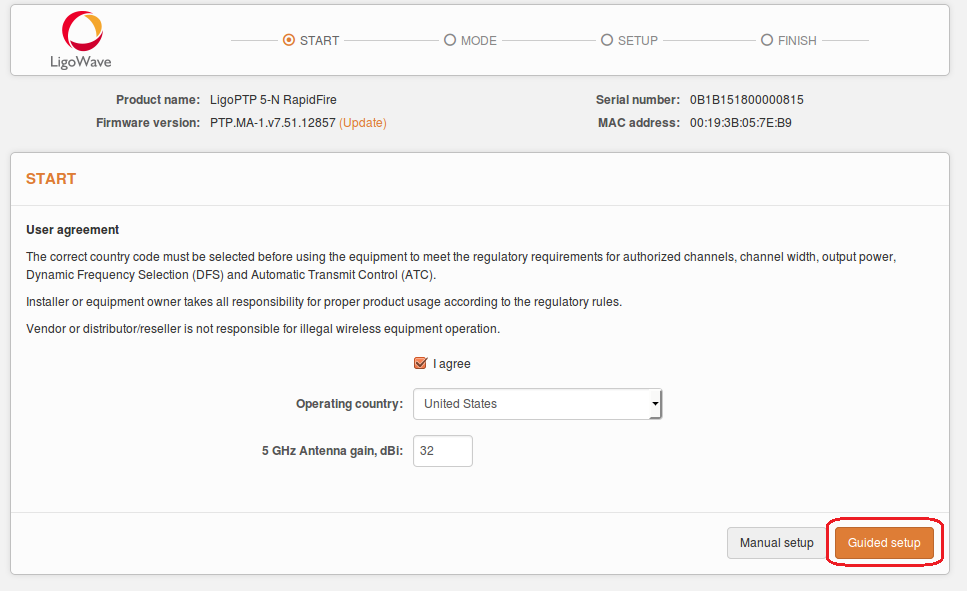 Guided Master Device Setup
The LigoPTP link consists of two units, one at each end of the link. If the radios of the LigoPTP Master and Slave units are properly aligned and fully installed, the devices will automatically establish a wireless link and data transmission will begin between LigoBASE and LigoSU.
Select the Master operating mode and click Next:
Specify the essential parameters of the Master unit and click Next: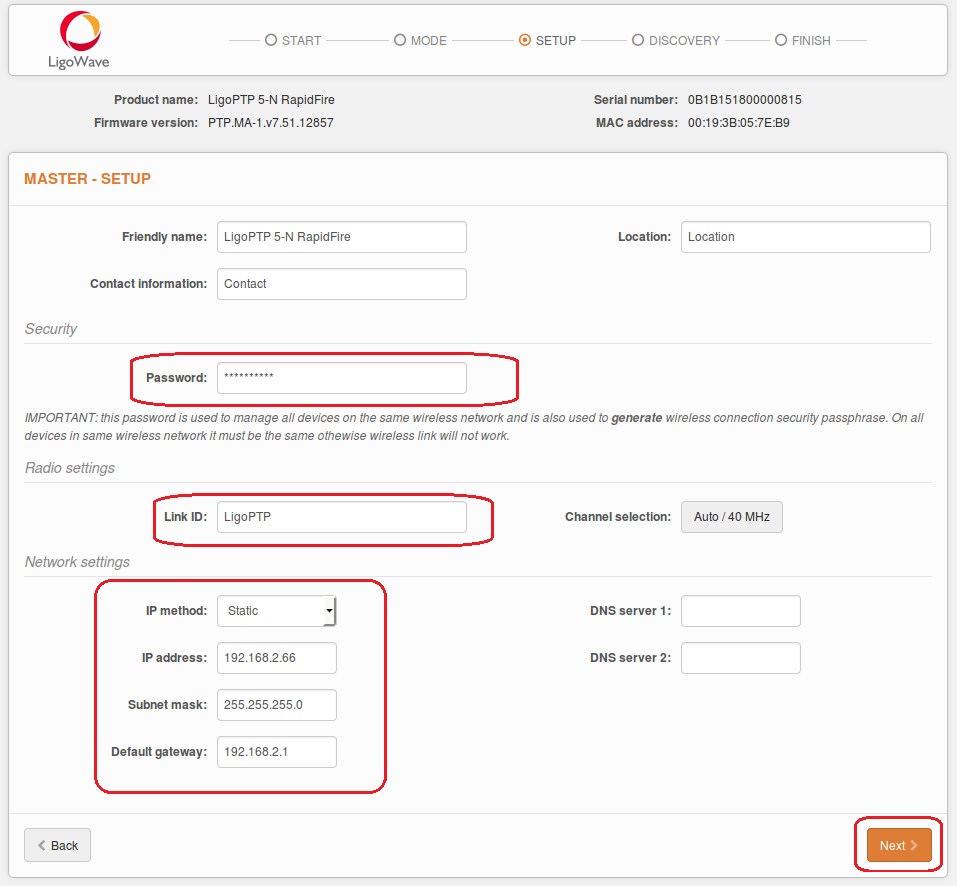 Note that by setting the password in the Security > Password section, the user creates a password for both the security of the connection between LigoPTP units and the Web Management Interface. The password set for the Master and the Slave units must match.
Connect the Slave unit to the Master unit as shown in the pictures below (select one of the given connection options) and wait until the Slave unit appears in the list at the bottom of the page: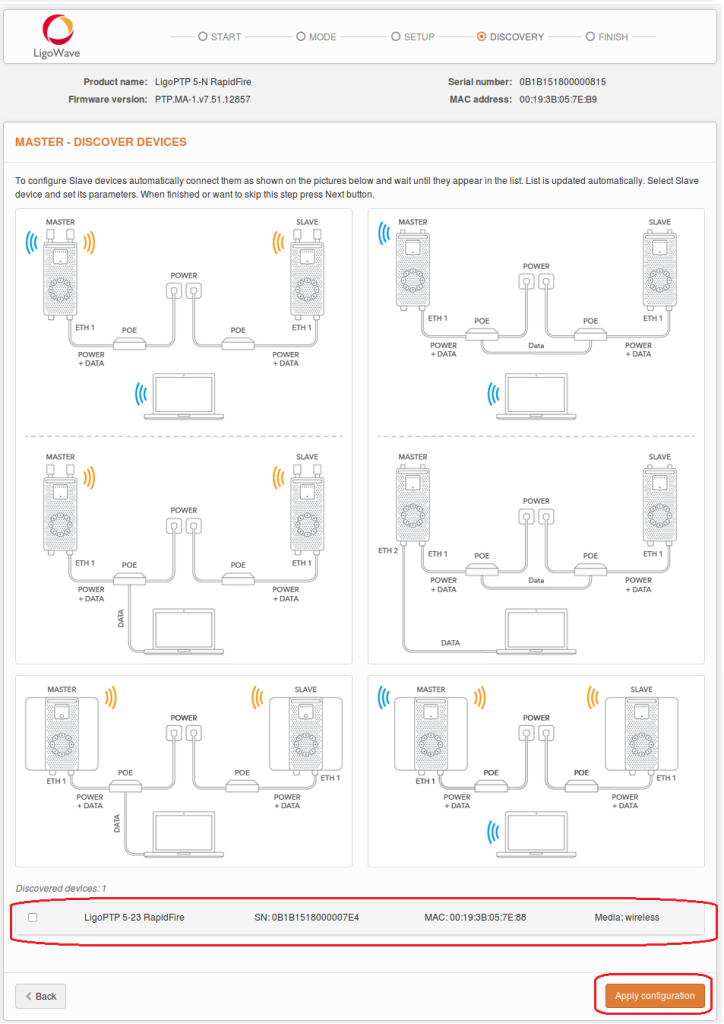 Note that the Discovered devices list displays remote LigoPTP devices with the default settings only. Configured devices will not be included in the list.
Select the discovered Slave unit and assign the following parameters: IP address, Friendly name, and Location.

Click Apply configuration and review the LigoPTP link's assigned settings: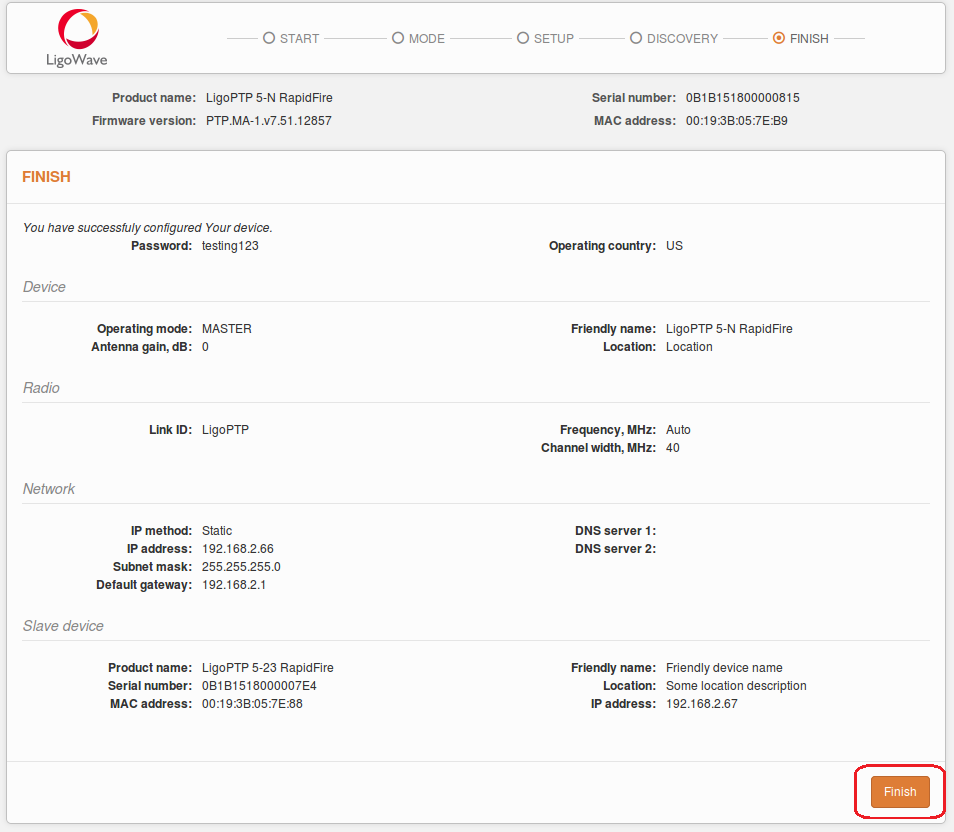 Click Finish to enable and apply the newly assigned settings to both units of the LigoPTP link.
The LigoPTP link is now successfully configured.

Check the parameters of the established link on the LigoPTP unit at Status > Information: